...there goes my chance (yg entah ke berapa kali)
I hate myself... I dunno la, trauma masa sekolah dulu wat aku cam takut nak approach guy yang aku suka...and its like stuck wit me till today...
Yesterday, I was walking right beside dis guy but i dun noe why i cant even look at him and say juz a simple
"hye"
... Very stressful when i think about it... Itu antara jarak yang paling dekat aku ngan dia setakat nih! Kepala aku ni berat gilew nak pandang dia ke...aku tunduk jew cam besa mengadap trek yang berutu tuh...I think I'm not gonna make it...I juz cant do it...No matter how hard I try to push myself still I got dat
"fear"
coming over me everytime I try to approach someone I admire...
So, I guess I juz let it go as usual...harhar...sedey sebenarnye...sigh~!
I think it'll be great if im not seeing him for this time being...yeah, to get him out of my system...At least, I can go back to where I was...I actually had pulled this guy out of me but hurm, i bumped to him back and it happened last month kan...so, dats why i was like so excited in
knowing
him and
chase
him back...Still, nothing change...Im not gonna say hi to him and he definitely not going to noe I like him or of coz starts it first....hish~! (silly me...ape kejadahnye dia nak tegur aku dulu?? huhu)
So, dats it...Urgh!
Menci!!!!!!!!!!!!!!!!!!!!!!!!!!!!!!!!!!!!!!!!!!!!!!!!!!!!!!!!!!!!!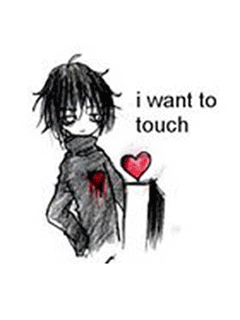 MyNiceSpace.com